Vera Plus Z-Wave Plus Home Controller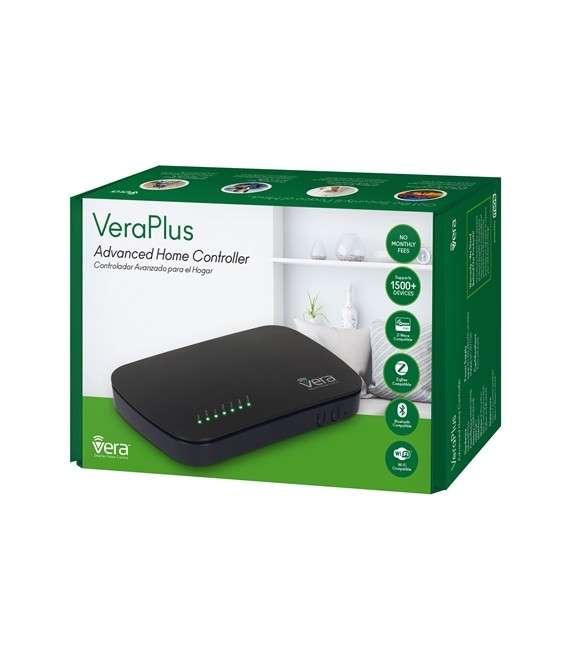 By connecting the VeraPlus with all the smart devices in your home, it allows you to control them together in groups or individually to create custom solutions that fit your life. View and control your system from anywhere, for total peace of mind. Home security and safety Travel with the confidence that your home is secure. Keep an eye on your vacation home. Have video recorded whenever motion is detected. Keep your kids and elderly family members safe, and keep an eye on your pets Know when your child gets home safely. Check in on elderly relatives. Know that your pets are safe when you're away. Energy savings and efficiency Set your thermostat to automatically heat or cool your house to the exact temperature you want when you arrive home. Create an energy efficient home by only having your heat or cool air on when someone is home. With VeraPlus you get the freedom of choice It works with practically all smart home and security brands including Nest, Amazon Alexa, Schlage, Yale, Kwikset, First Alert, and most others. Bring them all together and control with one app. There are no monthly fees or contracts. And enjoy easy automation benefits Lock doors and turn off lights with a single touch. Includes easy one-touch settings for Home, Away, Night and Vacation.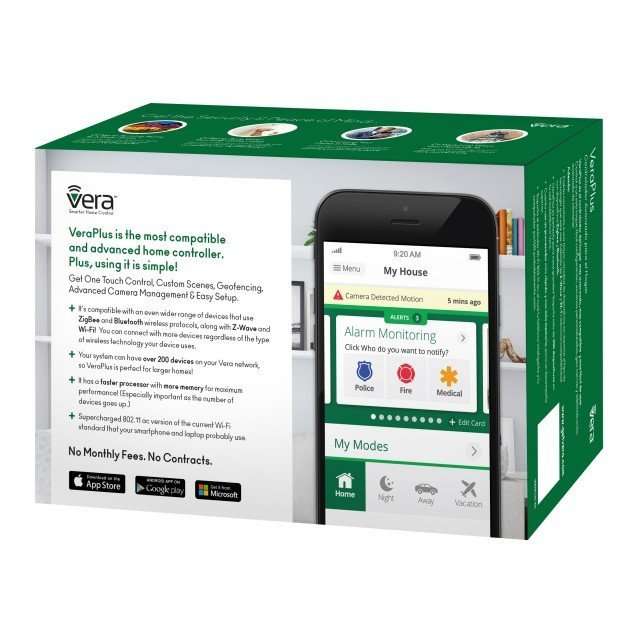 Get "Peace of Mind" Security with Vera At Vera we know home security is about much more than sensors and alarms. It's about knowing your family is safe, keeping an eye on your pet while at work, travelling with the confidence you'll get an alert if anything happens back home. And it's about the financial security of knowing you're not wasting energy, and not having to pay unnecessary monthly fees! Get Vera for total home security and peace of mind! What's Inside Here? Wondering what's in this package? VeraPlus Home Controller is a sleek black box that connects to the Internet, and using wireless technology also connects to all the cameras, sensors, door locks, thermostats and other devices you install in your home (each sold separately.) The controller acts as a central hub for everything else. Using your phone, tablet or computer you access your entire smart home security system from one easy app, no matter how many devices you add and from anywhere in the world. One App Controls Everything! Even if a device has its own app there are many benefits to controlling it with Vera. It can interact. Your Schlage lock can automatically change your Nest thermostat, for example, as you unlock your door. Most security sensors for doors, windows, motion, etc. require a controller and its app; they don't work alone. The Vera Dashboard app combines devices that come with their own apps with devices that have no app into one, easy to control panel accessible from anywhere using phone, tablet or laptop. Get VeraPlus for Convenience, Security, Energy Savings and Compatibility This VeraPlus Home Controller is compatible with the widest variety of brands and models of devices you'll find anywhere—over 1,400. VeraPlus Home Controller has everything the popular VeraEdge has, including no monthly fees required! VeraPlus adds more device compatibility, more memory, and more speed. Get VeraPlus Home Controller for your home today! Works with major wireless protocols: Z-Wave Plus, Wi-Fi, ZigBee, and Bluetooth; including device brands such as Amazon Alexa, Nest, Schlage, Yale, Kwikset, Aeon Labs, First Alert and many more. Add exactly the devices you want—Motion Detectors, Cameras, Locks, Thermostats, Dimmers, etc.
Communication Protocols | Z‐Wave Plus (500 series chip)ZigBee Bluetooth LE802.11 a/b/g/n/ac Wi-Fi
RF Frequency | 921.42Mhz ‐ AU/NZ approved RF for Z‐Wave
Z‐Wave device type | Z-Wave controller
Power Supply | Input: 240VAC, 50-60HzOutput: DC 12V/1.5A
Hardware | CPU: 880MHz MIPS SoCFlash Memory: NAND 128MBMemory: DDR3 256MBUSB Port: 1 USB 2.0WAN Port: 1 Gigabit Ethernet
Operation Range | Up to 40m indoors (with no obstacles)
Application | Indoor use
Operation temperature | 5 ~ 40 °C
Storage temperature | ‐10 ~ 60 °C
Weight | 300g
Dimensions | 198mm x 128mm x 33mm
Housing | ABS
---
We Also Recommend
---